There's no way to keep your teeth fully clean with just your toothbrush. Dental floss and other interdental cleaners (small brushes, picks, etc) exist to remove the food and bacteria which gets lodged into spots between teeth that your toothbrush can't get to.
Letting those spaces go unchecked allows the trapped matter to turn into plaque, which itself can harden into a mineral deposit called tartar that can only be removed through professional cleaning.
Allowing tartar to build up makes cleaning teeth more difficult, can cause gums to bleed, and can lead to gingivitis!
According to the American Dental Association, interdental cleaners "are an essential part of taking care of your teeth and gums," and should be used at least once a day. Here are some tips and facts to keep in mind when maintaining a healthy mouth and a great smile: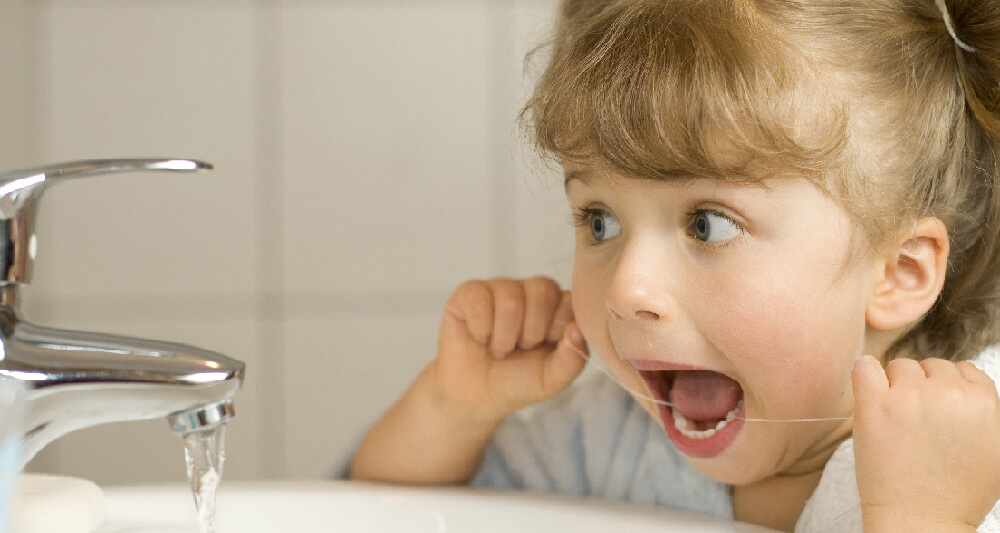 Notes on Floss and Other Interdental Cleaners
Floss is classified by the U.S. Food and Drug Administration as a Class I device, meaning it's low risk and subject to less regulatory control.
Modern floss is usually made from nylon filaments or plastic monofilaments, can be waxed or unwaxed, and can be flavored with agents such as mint for a more pleasant cleaning experience. Generally speaking, the type of floss is less important than how and when it's used, which should be once a day!
If floss isn't right for you, other interdental cleaners include dental picks, pre-threaded flossers, tiny brushes, and water flossers. Dr. Tracy St. Dennis right here at Willow Lake Dental recommends the Waterpik Water Flosser, an incredibly effective alternative sporting an ADA Seal of Acceptance to prove it.
The ADA recommends:
brushing twice a day.
using floss (or another interdental cleaner) once a day.
Reusing floss is not encouraged, as it can lose its effectiveness or deposit the removed bacteria back into your mouth.
Whether it's before going to bed, right after waking or any time in between isn't as important, as long as it's being done.
Similarly, it also doesn't matter as much if you floss before or after brushing, as either way will net you results. You can set up your interdental cleaning routine based on what schedule fits your needs.
How to Identify if the Product Works
Look for the ADA Seal of Acceptance on your interdental cleaner of choice.
A company receives the Seal when they can scientifically prove their product's safety and efficacy in reducing plaque and gingivitis.
Here are the qualification points that the company must provide evidence for if they want the Seal of Acceptance:
Using the floss or interdental cleaner alongside a toothbrush reduces plaque and gingivitis more effectively than brushing alone.
The components of the product are safe for your mouth.
The average patient using the product unsupervised will not damage hard or soft oral tissue or restorations.
Clinical trials aren't necessary for products similar in design and composition to floss or from interdental cleaners the ADA has previously accepted.
Your dentist can also help identify the right product for you. Dr. Tracy and the rest of the staff here at Willow Lake Dental have a helpful and nonjudgmental approach to educating our patients on oral health habits.
By following these recommendations and continuing to floss or use an interdental cleaner once a day, you'll keep your mouth happy and your smile bright!
Other Helpful Resources
–The ADA's Accepted Floss and Other Interdental Cleaners
–Keeping Your Gums Healthy, Targeting Bad Breath, and Buying ADA Acceptance Seal Products
–Analysis on Interdental Cleaning and the Risk of Periodontitis
–Harris Poll 2015 infographic on the Dentist-Patient Conversation About Flossing
–News In Health's Recommendation To Keep Flossing
–The CDC on How To Maintain Oral Health
–The American Diabetes Association Recommends Flossing If You Have Diabetes
–The National Institute of Dental and Craniofacial Research Says Patients Who've Undergone Organ or Stem Cell Transplants Should Brush and Floss
---
Willow Lake Dental
3475 Willow Lake Blvd, Suite 100 Vadnais Heights, MN 55110
Monday:       8:00 am–6:00 pm
Tuesday:       7:00 am–2:00 pm
Wednesday: 7:00 am–2:00 pm
Thursday:     11:00 am–6:00 pm
Friday:          7:00 am–1:00 pm
Saturday:     Closed
Sunday:        Closed